A cutting from "The Lutheran" (Vol.22 nr.27) of 5th July 1916: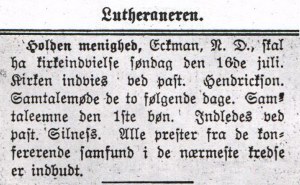 "Holden congregation, Eckmann, N.D will dedicate their church on Sunday 16th July, with pastor Hendrickson officiating. There........
When the congregation celebrated it's 50th anniversary in 1951 a memorial book was published, and this gave the reason for the choice of name: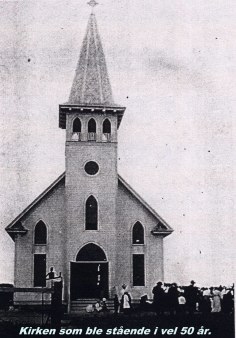 "It was called `Holden' at the request of Anna Marie Jensen, mother of Ole Nygaard, after a church of the same name in Norway".
Anna Maria was born on 6th January 1860, to Jens Halvorsen Jelset and Aslaug Maria Halvorsdatter. In 1889 they took the boat `Heimdal' from Oslo to White Water in Wisconsin. She had a daughter but never married, and died in 1914. Her gravestone says that she was born in 1850, but this is probably not the first time that the year has been incorrectly written on a grave! Her familys descendants still live on a farm in Helgen, Norway.
Maxbass is a little village right up by the Canadian border. By 1996 there were only 118 inhabitants. Since the foundation of the congregation had vanished, it was closed in 1965. Some years later the church was pulled down and today the only reminder that there was once an active congregation is the churchyard.