By Nils Buverud.
( Translation from Norwegian by Christopher John Denton, - musical director of Holla parrish. )
The first documented parishioner from Holla to emigrate to America was John Jensen Graver. The documents relating to the estate of Jens Augustinussen Graver (who died in February 1818) state that John Jensen was living in America at that time. - (Arne Johan Gjermundsen "Skifteregister for Holla Nedre Telemark" p.57.)
After Cleeng Person left,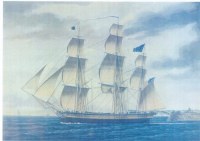 people began to emigrate from Holla to America from the beginning of 1840. In the years preceding 1900 about 1100 people emigrated from Holla - probably more. Some of those who left had more of a pioneering spirit than others! From Martin Ulvestad's book "Nordmændene i Amerika" (Norwegians in America) we can see that many people from Holla were the first to settle new ground in the West of America.
Ole Anundsen Lunde (Holla 1, p.818) was one of these pioneers. He arrived in New York on the boat `Washington' and first set foot on American soil on 1st August 1842. Ole was from `Søgal-Lunde' in Valebø and was the first person we know of who emigrated from Holla after the mass emigration started in 1825.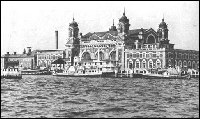 The new settlements and townships developed by the new inhabitants created a need for churches and priests to serve the growing populations. Congregations were established in the places where the Norwegians settled.
In O.M.Norlie's book "Norsk Lutherske Menigheter i Amerika 1843-1916" (Norwegian Lutheran congregations in America 1843-1916) published in 1918 we find 46 congregations with names from Telemark (totals in brackets): Brevig (1), Bø/e (4), Drangedal (1), Gjerpen (1), Helgen (1), Hitterdal (4), Holla (11), H/Videseid/Hvidsøi (3), Lunde (4), Melum/Mellem (1), Mo/e (3), Saude (2), Skien (1), Solum (3), Telemark (2) and Vinje (3). - Some, for example Bø, Mo and Lunde may have their names from other places in Norway, outside Telemark.
What is remarkable is that Holla/Holden alone has given it's name to nearly one quarter of all these. We find congregations called `Holden' in 4 States: Wisconsin (WI), Minnesota (MN), South-Dakota (SD) and North Dakota (ND).
Congregation

Beg./Stop

Town or

distance to town

County

State

Comments:

1843 - 1890

1848 -1910

-

-

1854 -

1856 -

1864 -

1874 -1879

1879 -1896

1885 -

1895 -1897

1895-

1901-?

1908-?

1880 -

-

-

4 miles N

-

-

-

-

7 miles N.Ø. (N.E.)

-

13 miles S.W.

1 mile S

5 miles S.

6 miles S.W.

7 miles N.W.

6 miles Ø. (E.)

12 miles N.W.

6½ miles S.Ø. (S.E

Waukesha

Ozonkee

Walworth

------ " ------

Waushara

Goodhue

Dunn

Watonwan

Brookings

Big Stone

Sargent

Aitkin

Bottineau

Slope

Codington

WI

WI

WI

WI

WI

MN

WI

MN

SD

MN

ND

MN

ND

ND

SD

1) From 1874 -1886 in LOM, whitch from 1886 merged with LONG LAKE congregation.

2) Merged with BLOM in 1896 and formed LAKE SINAI congregation.

3) In 1897 the name was changed to BERGEN congregation.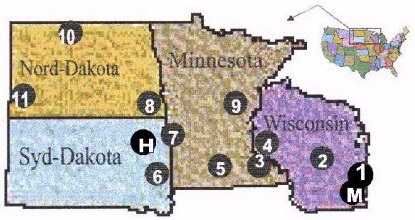 The table shows that naturally enough the development of the churches follows to a large degree the pattern of immigration from the East towards the West of America. As far as I can see there are two reasons that the name `Holden' was chosen. The first is that emigrants from Holden/Holla named the new churches after the one they left behind, and this is the most likely explanation for the naming of most `Holden' congregations. Another possible explanation is that people who settled first in a `Holden' in America and then moved on to settle new ground took the name with them, despite the fact that they had no connection with Holden in Norway. Before we take a closer look at these congregations we first visit
Muskego
, where the first Norwegian church in America was built.